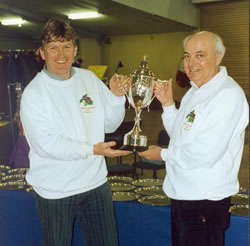 This picture shows Norman presenting the Counties Challenge Cup to the first ever winner Austin Spindler..
The Organisers of the Counties Challenge have decided to rename the "Counties Challenge Cup" to the "Norman Pritchard Counties Challenge Cup" in memory of Norman Pritchard who was the first Judge of the Counties Challenge competition.
The competition started in January 1993 and Norman was a very enthusiastic supporter of the competition and would always encourage people to enter their flights for the Counties Challenge.
He painstakingly checked all of the entries that were submitted for the competition and compiled the results ready for publication at the end of each quarter.
Norman would always attend the BBAC AGM so that he could present the cup to the winner shortly after the competition year had finished.